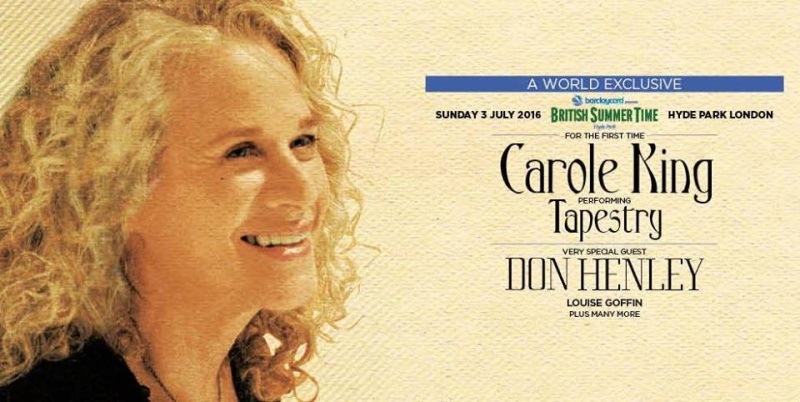 Quelques jours après la réunion JT/ JACKSON BROWNE au Wrigley Field de Chicago, leurs collègues DON HENELY et CAROLE KING se produisaient l'un après l'autre interprétait le 3 juillet lors du British Summer Time de Hyde Park, à Londres. Carole King interprétait - pour la première fois - l'intégralité de son album mythique TAPESTRY. Elle était accompagnée, entre autre, de Danny KORTCHMAR fidèle e JT et Jackson et guitariste original sur Tapestry.
Danny Kortchmar, Carole King & Don HenleyCAROLE KING AND DON HENLEY ROCK LODOND WITH POWERFUL EMOTIONAL CONCERT

By Jane Howze
While the USA was celebrating the 4th of July with its customary fireworks, London was launching its own version of an American pyrotechnics display with two iconic American songwriter-singers at Barclays' British Summertime (BST), a two week summer music festival held in Hyde Park attended by 65,000 appreciative fans each day.
In the past, BST has landed such big names as the Rolling Stones, Taylor Swift, Paul McCartney and Bruce Springsteen, but this year the marquee guests were Eagles co-founder Don Henley followed by the venerable Carole King —two of America's greatest songwriters, with King performing her seminal 1971 album Tapestry in its entirety for the first time.
I was lucky to be in London earlier this year the day the lineup was announced and tickets went on sale. The Henley-King billing sold out immediately, and for good reason. King has not performed in England in 27 years. In 2010, she and James Taylor toured the U.S. with their highly acclaimed Troubadour tour, but at 74, performing live was not high on her list. And Henley had recently lost his Eagles co-founder Glenn Frey and it seemed that the Eagles portion of his life was over. What touring he would do was an open question, and at 68, he was making noises that his voice was not as strong as it used to be.
All of this to say is that many of the artists we grew up with and love have rounded third base in their careers, and if we want to see them live again we should jump at the chance. We might not get another.
The Venue: A Civilized Setting
Hyde Park, in the center of London and three blocks from Buckingham Palace, is easy to get to by tube or bus, and is a short walk from many local hotels. Concerts start each weekend early afternoon and go until 10 pm sharp. Because the park is in a partly residential neighborhood, the power and lights are turned off at 10:30, regardless of who is playing, as Bruce Springsteen and Paul McCartney found out last year when they were disconnected in the middle of a legendary performance.
Within the grounds are four different stages with the main performances taking place on the Great Oak Stage. There are plenty of outdoor bars and restaurants, shaded sitting areas with bean bag chairs, and modern restrooms. But there are no assigned seats, except for Barclay's VIP grandstand at the rear of the venue — just assigned sections. Most people bring blankets and sit on the ground (in the back sections—not allowed up front) or stand next to the stage.
It is all very civilized and by the time the concert ends, the sun is just setting.
Don Henley: Something for Everyone
Opening promptly at 6:15 p.m. in blinding sun, Don Henley and his 10-piece band wore jeans, his two female backup vocalists were in cool black dresses and most sported sunglasses, with Henley donning a red lumberjack jacket as the sun set and the air cooled. The band seemed genuinely moved by the crowd's warm welcome as they took the stage.
Henley launched into a 15-song, 75-minute set that provided something for everyone: Six Eagles hits, one song from his recently released solo album Cass County, seven pieces from his solo career, and a wonderful sing along to the Tears for Fears' "Everybody Wants to Rule the World." Diehard Eagles fans were delighted that he dusted off "The Last Resort" from The Eagles gold album Hotel California, a song last performed 35 years ago. Henley also got a huge crowd response from Eagles song "One of These Nights."
Henley kept his banter to a minimum, but did say, when introducing "It Don't Matter to the Sun," that "We are going to do some ensemble singing. Something you don't hear much of these days — just yellin.'" The crowd loved it, and applauded enthusiastically as Henley and his group broke into perfect six-part close harmony.
While some may carp that Henley and the Eagles lack spontaneity, he always gives a darn good concert with rarely a note out of place. Again, he did not disappoint. His standards are high and his voice sounded as good as ever. The band members have been with Henley or the Eagles for decades, and it shows. Guitarist Steuart Smith's versatility continues to shine.
There were several differences in this concert from a typical Henley performance. First, Henley seemed to embrace that he and his band would carry the Eagles standard now and would devote a good part of his shows to the Eagles songbook.
The second difference, which is sadly only temporary, deals with concert photography. Henley has been on a tear about no photography during concerts, even authorizing security guards to admonish anyone trying to use a cell phone, which I have written about previously in my reviews of Eagles concerts. Fortunately, this concert was in too big of a venue to enforce a photo ban, and I snapped away like a kid in a candy store.
The third and most poignant difference came after a rousing "Hotel California," where Henley played the conga drums. He paused, removed his sunglasses and said, "This has been a tough year for our camp. We have heard and read your condolences. Thank you for your love and support. Glenn, this one's for you," as he launched into an emotional "Desperado" to end his set.

DESPERADO


The cheers (and more than a few tears) lingered long after he and the band exited.
Carole King: A richness of Tapestry
Before Carole King even entered the stage you knew you were going to witness something special. A film track appeared of Sir Elton John, Tom Hanks, James Taylor and other artists talking about King's iconic 1971 album Tapestry and what it meant to them. The film whipped the audience — a mixture of baby boomers with children and their children— into a frenzy. King emerged with her seven-piece band and started right in with the first cut from the album, "I Feel the Earth Move." Immediately, everyone in the audience sang along, knowing every word.
King, dressed in black pants and a sparkling top, seemed overcome for a moment at the power and emotion of the audience's response. The bond between her and the audience was immediate, electric and mutually adoring. King seemed close to tears she was so moved by the audience reception she continued to receive.
King followed the album in its chronological order, with "So Far Away," "It's Too Late," "Home Again," "Beautiful," and "Way Over Yonder" rounding off side one. Side two began as the giant screen showed a 45rpm record turning over, with "You've Got a Friend," followed by "Where You Lead."
King explained that she had never again sung the song as written because the lyrics were geared to a man leading a woman, but that she and her daughter, Louise Goffin, rewrote the song for the TV show, The Gilmore Girls, to describe an empowered woman. She brought out Goffin to play the modernized version with her. Then they both sang a moving duet of "Will You Love Me Tomorrow," which was the first song King and her then-husband Gerry Goffin wrote, back in 1960.
King then threw off her jacket, grabbed an electric guitar and launched into an energetic version of "Smackwater Jack," again with daughter Louise singing and playing guitar. As she finished, amazingly not out of breath, King laughed and remarked, "This is what 74 looks like."
One of the most poignant moments of the show was the final song of Tapestry, "You Make Me Feel Like a Natural Woman" (written in 1967 and recorded by Aretha Franklin), as King sang the song in tandem with her performance as a 20-something-year old projected on the giant screen. What a wonderful perspective on the enduring power of song.
At 74, King looks radiant. She is appropriately wrinkled, one of the few performers her age (or any age) who seems to have the self-assurance not to have cosmetic work, and she glows with wisdom and joy. King's piano playing was more versatile and creative than I remember from her past performance with James Taylor.
Her voice sounded fine, though just a little pitchy at times (which is to be expected at her age), but that just added to the realness of the evening. She did not hold back, and once she laughed to the audience, "No way I can hit this note," but it was so authentic, and it was just such a rare honor to watch the woman who brought hundreds of really good songs to life sing them with such joy.
Looking at the concert critically, Tapestry is not an upbeat album. It is an album of change, forlornness, depth, uncertainty and introspection, and the best "arena" songs are at the beginning rather than the end. So, if this were not a concert of Tapestry from beginning to end, you would see the song order rearranged so that it ended on a higher note (pardon the pun).
King's solved that challenge by following the last Tapestry cut with a medley of some of the many songs she has written for others, including "Go Away Little Girl (Bobby Vee)," "One Fine Day" (The Chiffons), "Hey Girl" (Freddie Scott and later Donny Osmond), "Chains" (the Cookies), and "Jasmine" (recorded by King) with a phenomenal sax player and a rocking performance of "The Loco-Motion"(recorded by Little Eva and others), that brought the house down.
With that she bowed and left the stage.
For her encore, King played a moving "Up on the Roof" against a beautiful backdrop of the London skyline. It was an emotional ending as the audience sensed its time with this icon was ending. As a surprise, King introduced the London cast of the Broadway hit Beautiful,The Carole King Musical, who joined her in singing "I Feel the Earth Move,"
Then it was just King bathed in soft light as the last rays of the sun reflected on her piano, singing softly, "You've Got a Friend" part of it tailored for London: "There is nowhere else I'd rather be so thank you for coming out to see….me. Thank you for welcoming my friends and family. I love you London! I love you London."
This is what a bucket list concert is made of.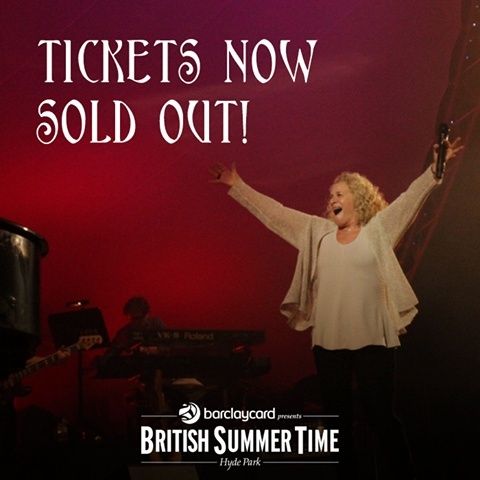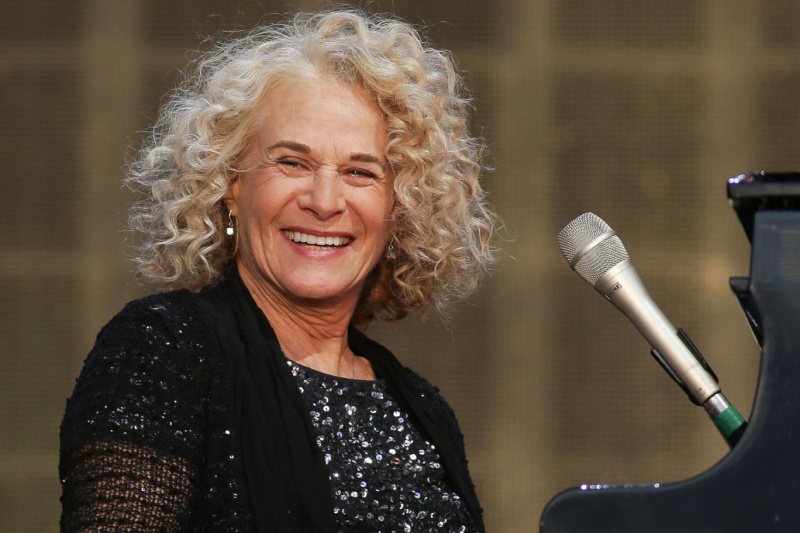 THE STANDARD
CAROLE KING AU BST 2016: DES LARMES DE JOIE TANDIS QUE TAPESTRY BALAIE HYDE PARK
(5/5)
Tapestry n'a rien perdu de sa charge émotionnelle en face de 65.000 personnes, déclare John Aizlewood
• John Aizlewood
• Monday 4 July 2016
•Original article : http://www.standard.co.uk/goingout/music/carole-king-tour-review-tears-of-joy-as-soundtrack-for-a-generation-sweeps-over-park-a3287196.html
[/b]
[/url]


Le deuxième album de Carole King, Tapestry, fut pendant un court moment l'album l eplus vendu de tous les temps (il se trouve encore dans la liste des 40 albums les plus vendus) et s'est placé en 1971 en tête des ventes pendant 15 semaines. Elle a donné naissance à une flottille de femmes singers-songwriters introspectives, de Tori Amos à Adele.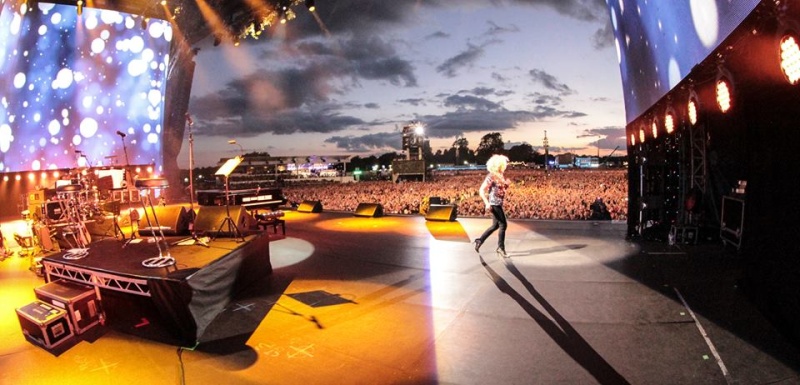 A 74 ans, Caroles King a joué hier soir pour la première fois l'intégralité de l'album Tapestry. Pour toute sa grandeur évidente, il était moins évident u'un tel recueil intimiste puisse prospérer dans un parc pour un public de 65.000 personnes p rmi lesquelles David Morrissey, Michael Ball, Jess Phillips, Mel C, Alan Carr, Kelly Jones, Steve Coogan, Niall Horan et les modèles Lizzy Jagger, Georgia May Jagger et Suki Waterhouse

Étonnamment, cette bande-son pour une génération réfléchie n'a rien perdu de sa charge émotionnelle dans un cadre large et je n'ai jamais vu autant de gens pleurer de joie au cours d'un concert. Des larmes coulaient pendant la reprise par  la foule  de You've Got A Friend, Way Over Yonder et une version presque sacrée de Will You Love Me Tomorrow? Au cours de laquelle  King a chanté en duo avec sa fille, Louise Goffin. Plus surprenant, King a troqué son piano pour la guitare sur Smackwater Jack et a fait bouger la foule à de nombreuses occasions. Incapable d'atteindre les notes, soutenus plus élevées, King  a assumé son âge (voilà à quoi ressemble 74 ans") mais elle semblait submergé d'émotion devant tant d'adoration. Quand elle s'est frappée la poitrine et a articulé "oh mon Dieu!» Après la douloureux Beautiful, elle a presque perdu son sang-froid.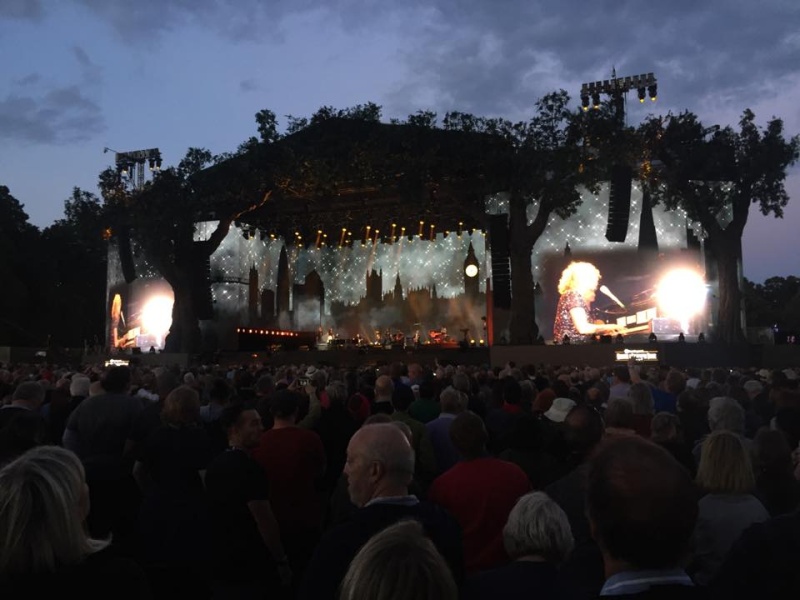 Il y avait plus. Up On The Roof et un trépidant et magnifiquement idiot Locomotion a honoré sa carrière de compositrice  pré-Tapestry, tandis que l'apparition turbulente de la troupe de la comédie musicale: Beautiful: The Carole King Musical  du I Feel The Earth Move tiré de Tapestry a montré que les chansons de King sonnaient encore jeune. Une soirée à conserver précieusement.


----------------------
THE TELEGRAPH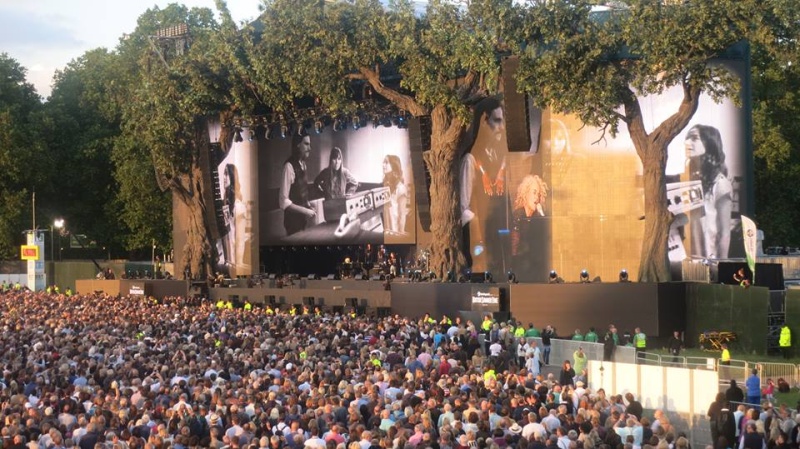 CAROLE KING AU BST: "UNE VASTE CHORALE UNIE PAR LA PUISSANCE DE LA MUSIQUE POPULAIRE"


Neil McCormick , critique musical - 3 Juillet 2016
Original article : http://www.telegraph.co.uk/music/what-to-listen-to/carole-king-british-summer-time-review-a-vast-choir-were-united/

Un rassemblement de masse masse en plein cœur de Londres, des dizaines de milliers de spectateurs ont élevé leurs voix, non en signe de protestation, mais en chanson, un vaste chœur se formant spontanément dans Hyde Park, uni par la puissance de la musique populaire.

"When you're down and troubled, and you need a helping hand," («Quand vous êtes déprimé et en difficulté, et que vous avez besoin d'un coup de main") ont-ils chanté avec une telle unité et une telle conviction que même la star du spectacle a été contrainte de faire une pause et d'écouter.

"J'aime quand vous chantez," rayonna Carole King, alors qu'elle nous rappelait à tous, dans les moments difficiles, la chose la plus importante à retenir était «  You've Got A Friend («Vous avez un ami.")
Et, en effet, il s'agissait du spectacle le plus sympathique que l'on puisse souhaiter, un karaoké de  Carole, quand vous aviez l'impression toute la ville s'était transformée en King singers.

King était à Londres pour jouer pour la première fois l'intégralité de Tapestry son classique de 1971, faisant l'histoire avec un album qui a fait l'histoire. Tapestry fut le premier album  qui connut une de méga vente, un album que chaque foyer posséant un système hi-fi  se devait de posséder.

La comparaison pourrait être faite avec la façon dont une autre singer-songwriter, Adele, gouverne le monde de la musique contemporaine, mais ce serait insuffisant. Pour son moment au début des années 70, Carole King était comme Adele, Les Beatles et Elvis roulé en un seul et doux package, intime, sincère et féminin.
King n'a jamais été la plus grand chanteuse du monde et ne l'est toujours pas. «Je ne vais pas faire cette note," admet-elle à un moment donné.

Mais elle est une des plus grandes auteurs-compisteurs et possède une voix authentique qui a vieilli avec les chansons. Il y a une fragilité qui se mêle chaleureusement et humainement avec un groupe de sept musiciens à l'habileté et au toucher redoutable pour maintenir en quelque sorte la personnalité organique et déchirée au cœur de l'original, même lorsque comme qu'ils étiraient les chansons afin de remplir l'espace.

Assise à un piano à queue, King a joué l'album dans l'ordre original, ce qui était satisfaisant, mais rendit  le concert inhabituel.

Ce n'est pas un album bourré de tubes fracassants. Il y a un état d'esprit et une anxiété qui court  tout de long et qui contrebalance avec de l'espoir, une fragilité émotionnelle qui en quelque sorte est restée apparente même dans l'humeur de célébration joyeuse du public.

King fut brièvement rejointe sur scène par sa fille, Louise Goffin, enfant unique de Carole et de son partenaire d'écriture Gerry Goffin. Elles ont chanté « Where You Lead », que King a réécrit  sous la forme d'une chanson mère-fille parce que l'aspect « reste près de to homme » du texte original ne semblait pas à sa place dans l'ère du «  women's lib» (une expression qui elle-même rend le sentiment obsolète).

Puis elles ont chanté sur la version mélancolique de Will You Love Me Tomorrow, un tube écrit par Goffin et King en 1960 pour The Shirelles.

«Je suis âgée, mais je veux que vous sachiez que je suis OK avec ça ", a annoncé King. «Voilà à quoi ressemble 74 ans!"

Ce fut une union intrigante entre générations affirmant le rôle de King en tant que mère nourricière de la pop. Les deux femmes se ressemblaient et sonnait de façon si semblable, que c'était presque comme contempler deux versions de la même personne, séparés seulement par l'âge. Plus tôt dans la procédure, Louise Goffin avait eut droit à son propre concert de chansons réfléchies et mélodieuses, ce qui suggère que la pomme n'est pas tombé loin de l'arbre. Mais, bien sûr, il y existe une multitude de singers-songwriters aujourd'hui qui en utilise le médium pour exprimer avec hardiesse la vie intérieure des femmes et se servant d'un modèle établi avec Tapestry. Elles sont toutes les enfants de Carole King. Ce sentiment de continuité a été encore soulignée lors des encores, lorsque l'ensemble du casting de la comédie musicale  West End  Beautiful est monté sur scène pour une reprise mémorable de I Feel the Earth Move, durant laquelle Carole partagée chant avec Cassidy Janson, l'actrice qui joue son jeune rôle plus jeune sur scène.

Ce sont les chansons de chaque femme et de beaucoup d'hommes aussi.

Il est toujours amusant, mais inspirant de se rappeler que Gerry Goffin a écrit les paroles de Natural Woman et il y a eu certainement beaucoup d'hommes hurlant à tue-tête dans Hyde Park, aux côtés de leurs mères, de leurs petites amies, de leurs épouses et de leurs sœurs.

«Cela ne me gêne pas," a déclaré le garçon à côté de moi. Et pourquoi le serait-on?

Ce genre de concert de ballade masse montre la musique populaire dans ce qu'elle a de plus essentiel; l'amour et l'unité, exprimés en chant choral. Cela a répondu à une question posée par l'incroyable carrière de King. Nous aimerons-nous encore demain. C'est sans aucun doute le cas aujourd'hui..


British Summer Time à Hyde Park jusqu'au 10 Juillet; bst-hydepark.com



--------------------------------------------
THE INDEPENDANT



CAROLE KING A HYDE PARK: "LA PEFORMANCE TARDIVE MAIS TRIOMPHANTE DE SON ALBUM TAPESTRY DE 1971

5/5 étoiles"


• CHRIS Mugan - Monday 4 July 2016
• Original article http://www.independent.co.uk/arts-entertainment/music/reviews/carole-king-hyde-park-review-belated-but-triumphant-performance-of-her-1971-hit-album-tapestry-a7118841.html


Une reprise en solo de son tube immortel ""You've Got A Friend" " - modifié pour faire référence à Londres – a représenté un final judicieux pour la tentative tardive mais triomphante de Carole King d'un concert de l'intégralité de son album classique.

La chanson était tirée de Tapestry, l'album de 1971 qui vit King métamorphosé de l'employée de l'usine à tubes de New York a à la singer-songwriter pionnière et  magistrale de Laurel Canyon,  de l'époque e l'esthétique introspective et tranquille.

Dans quelque chose ressemblant à un coup pour la série Hyde Park, qui avait en tête d'affiche cette année tout un tas d'artistes allant de Massive Attack à Take That, King interpréta son œuvre maitresse intégralement pour la première fois. Pour ce moment historique, elle fut introduite via une vidéo par de nombreuses personnalités, parmi lesquelles Sir Elton John, Tom Hanks et David Crosby.

Non pas que Tapestry ait besoin d'une telle introduction, alors que le noyau du concert de la compositeur ait prouvé son statut d'irrécusable classique. Le parc royal a présenté la distribution complète de la comédie musicale pleine de positivité "Beautiful" pour un "I Feel The Earth Move » qui représenta un démarrage étourdissant.

Pourtant, il y eut également un espace pour la vulnérabilité pleine des douleurs de "So Far Away" et "Home Again". Ailleurs, King affronta avec courage le défi des airs familiers mieux connus par d'autres artistes, comme le "(You Make Me Feel Like) A Natural Woman" immortalisé par Aretha Franklin.

Son auteure délivra sa propre marque discrète de sagesse introspective durement acquise avec une voix altérée par l'âge qui ajouta à son charme de « madame tout le monde ».

Tout au long du concert, l'artiste a été habilement soutenue par un groupe de cinq musiciens qui a sur recréer l'intimité de l'enregistrement original, avec des breaks de guitare bien jugés d'un autre survivant de l'enregistrement de Tapestry, Danny "Kootch" Kortchmar.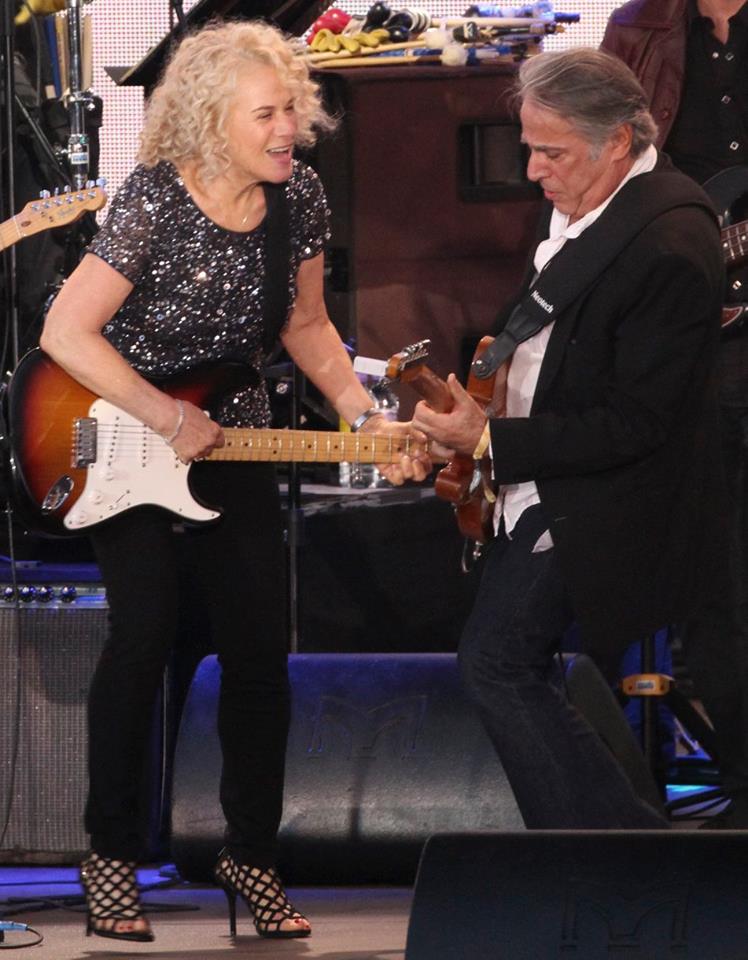 Après son chef-d'œuvre, le soir descendit souvent dans des vibrations plus à l'eau de rose, à  commencer par un mélange de morceaux de sa carrière pré- Tapestry, culminant par une version étirée de "Hey Girl" montrant une Carole King incapable de capturer l'intensité de l'original.

La soirée s'acheva comme elle avait débuté, par la présence surprise de la distribution de Beautiful, la comédie musicale retraçant la vie et la carrière de King. Il est préférable de se souvenir de l'apparition de la fille de King, Louise Goffin sur une touchante version de "Where You Lead", la paire mère-fille démontrant le bonheur familial auquel aspirait tant la Carole King de 1971.


Dernière édition par Admin le Jeu 07 Juil 2016, 12:52 pm, édité 3 fois