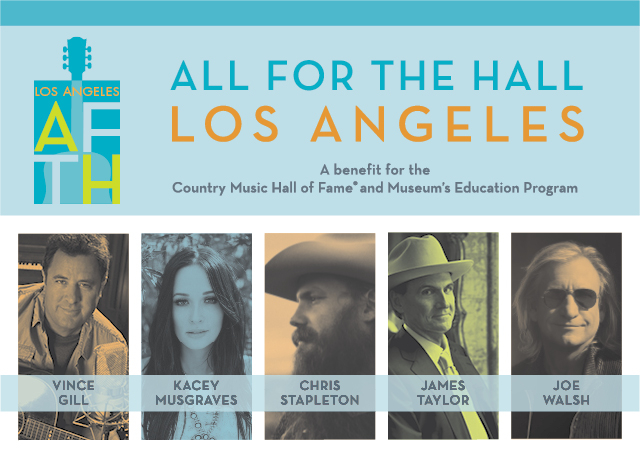 Le mardi (27 septembre), le Country Music Hall of Fame and Museum a réuni Vince Gill , Kacey Musgraves , Chris Stapleton , James Taylor et Joe Walsh à Los Angeles pour une soirée à guichets fermés de divertissement à l'occasion du 9e All for Hall Benefit.
Pendant deux heures, au théâtre Novo, chaque artiste a tour à tour pris sa place sous les projecteurs pour offrir des performances acoustiques de leurs plus grands succès en version guitare acoustique.
«Ces shows sont un cadeau pour moi parce que j'invite des artistes dont je suis fou pour venir jouer et chanter leur musique," a déclaré Vince Gill au début de du concert. "Cette soirée est l'une des meilleures que nous avons été en mesure de concocter, parce que chacun de ces artistes a eu un impact énorme sur ma vie. Il n'y a pas que les artistes qui sont venus avant vous qui ont un impact sur vous. Les gens qui viennent après vous peuvent  avoir eux aussi un impact sur votre vie. Ces grands artistes  l'ont eu dans la mienne. "
Gill est arrivé avec le concept de All fo All il y a des années de Hall il a commencé à demander aux artistes de contribuer avec une performance pour l'organisation, et il a organisé ou co-organisé chaque concert All for Hall depuis que la série a commencé en 2007.
Avec Keith Urban , Gill co-organise également un concert All for All régulier à Nashville.
Le show s'est  ouvert avec une performance des sixième année École élémentaire locale de Dorris Place armés de ukulélés, avec leur composition originale "Far and Wide." La chanson a été co-écrit avec la faiseuse de tubes Liz Rose et le compositeur Phil Barton au travers du programme Words & Music du musée, qui couple des auteurs-compositeurs avec les élèves des écoles du pays.
En 2016, les événements All for Hall de Nashville et Los Angeles ont amassé plus de 900 000 $ pour les programmes d'éducation de l'organisation.
SET LIST:
A World Without Haggard — Vince Gill
Today Today Today — James Taylor
Family is Family — Kacey Musgraves
I Was Wrong — Chris Stapleton
Meadows — Joe Walsh
The Whiskey and You — Stapleton
Christmas Always Makes Me Cry — Musgraves

Something in the Way She Moves — TaylorBartender Blues — Gill with Taylor
Life of Illusion — Walsh
Where Rainbows Never Die — Stapleton
Mama's Broken Heart — Musgraves
You Can Close Your Eyes — Taylor
Whenever You Come Around — Gill

You've Got a Friend — Taylor with Gill
Merry Go Round — Musgraves
When the Stars Come Out — Stapleton
Indian Summer — Walsh
Sight for Sore Eyes — Gill
Steamroller Blues — Taylor with WalshFire and Rain — Taylor
VIDÉOS

Today Today Today



Something In The Way She Moves



Bartender Blues



Bartender Blues (plan rapproché



You Can Close Your Eyes



You've Got A Friend



Steamroller Blues + Sweet Baby James



Steamroller Blues (plan rapproché)






Dernière édition par Admin le Jeu 27 Oct 2016, 12:18 am, édité 2 fois